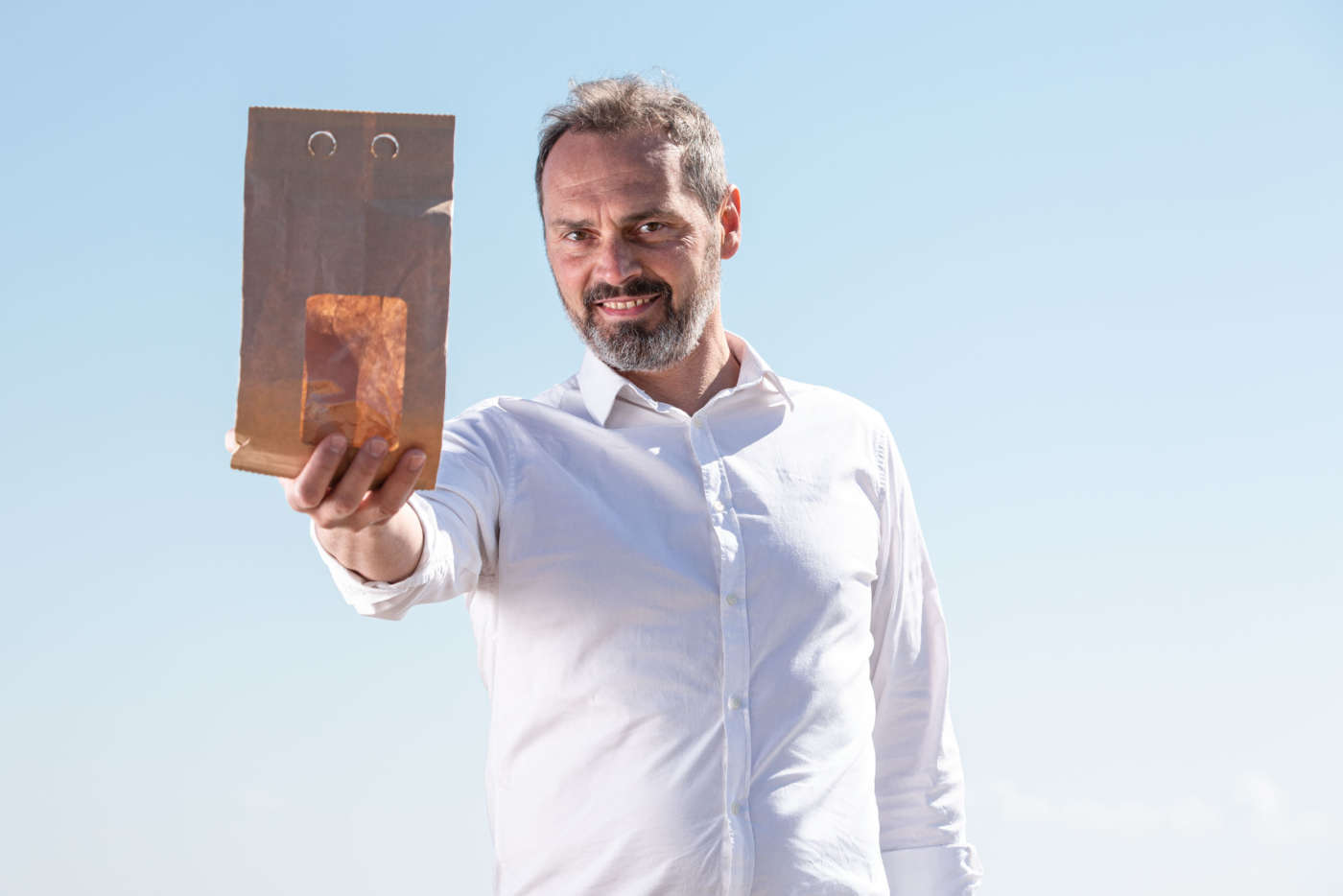 Fresh Point

Inkarta, with NoW technology the paper pack is sustainable #vocidellortofrutta
A sustainable material, made entirely from renewable sources, recyclable, disposable in the paper recycling circuit. The paper with NoW technology proposed by Inkarta, and developed thanks to the company Policarta srl, aims to be an alternative to plastic packaging for fruit and vegetables. It doubles shelf-life, blocks the onset of mould, is antibacterial and forms a natural barrier to oxidation from UV rays which causes potatoes to turn green from solanine. InKarta, in collaboration with Policarta, has made this material "workable" on all existing packaging systems. Fruit and vegetable companies opting for this hi-tech but green packaging are growing, as told by the CEO Giuseppe Merloni whom we hear on his return from Tel Aviv.
Is Israel also interested in Inkarta's technological product?
Israel, Canada, the USA, Australia and even North Africa are showing interest. We have more than one sign of looking for an alternative to plastics. Our main project remains European and is completely made in Italy. With our American partners we are also expanding outside Europe: we are in the USA, California, Australia. We intend to offer our paper all over the world, the transition towards sustainable packaging is global.
What are the growth prospects?
The fruit and vegetable companies that use our technological paper are growing and embracing the ecological transition. Since October we have doubled production and we are going to triple by January. The business plan until the end of 2023 provides for important investments: in machinery, training, controls, certifications, tests. The American company Afc Group believes in this project and has proposed an important production development plan to us.
What is the relationship with Afc Group?
We are a partnership. The production of packaging for fruit and vegetables is entirely Italian: it takes place in the province of Viterbo. The American company that works in the production of Teflon-coated tapes, high-tech materials for contact with heat, ovens, industrial kitchens and more, has decided to invest in this type of innovative packaging and holds 90% of the Policarta srl production company .
Why is this production sustainable?
We use virgin kraft paper. When the "waste" ends up in the pulping paper mills, NoW technology is activated by cleaning the cellulose fibers from treatments, inks, sealants, anti-humidity, anti-sprouting, anti-mold treatments etc. Everything that is not paper remains in the paper mill filters, the cellulose fibers are clean and of the highest quality, the paper can regenerate itself up to 20-25 times when it is pulped. In Italy, about 87% of the raw material introduced is recycled, official data speak of an average recycling of up to 7-8 times.
How is the extension to various fruit and vegetables going?
We started with the more complicated fruit and vegetable products, potatoes, carrots, radishes, which are packaged washed, wet, moist: a difficult environment. We make a product that is destroyed in water but we work in humidity. There are treatments that must be measured and controlled and sometimes corrected during processing: it is a complex phase. We are using NoW paper mainly for carrots, radishes, potatoes, onions, then dried legumes, nuts. We are making countless tests, beets, peppers, tomatoes, courgettes, kiwis, strawberries, dates, aubergines, fennel, celery.
The latter lends itself very well to being packaged in a long envelope and we have ad hoc projects. We have a treatment "recipe" for each product. Among the tests carried out, there was also a novelty on aromatic herbs with very promising results. We recently went to Holland where we held an open day at Argos, our distributor for the Benelux, and we dealt with products such as potatoes, radishes but also cherry tomatoes, leaf products, beets, endives. The cold chain for logistics must be respected: when the products arrive on the counters they are between 4 and 8 degrees; normally, for a short period of 2-3 days, they do not need refrigerated counters.
Isn't there the idea of testing the fourth range?
With our research program we currently have other projects.
The market today seems to reward Rpet, how are the costs of paper, which is highly energy-intensive, increasing?
All polymers of fossil origin have a very long life span, do not compost and put us at risk from microplastic pollution. However, we are not against the use of plastic: RPET is welcome if those who produce it do it ethically. Packaging must be recyclable: 95% of flexible fruit and vegetable packaging is plastic 07, coupled, laminated, composed of polymers of various manufactures which are not recyclable. We are a plastic-free alternative. In terms of costs, we have undergone a significant increase in raw materials in the last year, but it seems we are at the peak. From next year we hope for the drop in prices.
What interest does the product arouse in large-scale distribution?
The Italian large-scale distribution seems to be waiting for similar solutions from large companies which, moreover, already supply plastic packaging. This is not the case abroad, where we work with various chains and we are receiving numerous requests every day. Until recently, some Italian groups had an eye on the subject of compostability, which however is not in the circular economy. Today there is attention on the RPet that has existed for several years: it is a matter of using a recycled pet part. With this material, the problem remains microplastic pollution, if it ends up in the environment: paper does not have it.
SOURCE: FRESH POINT