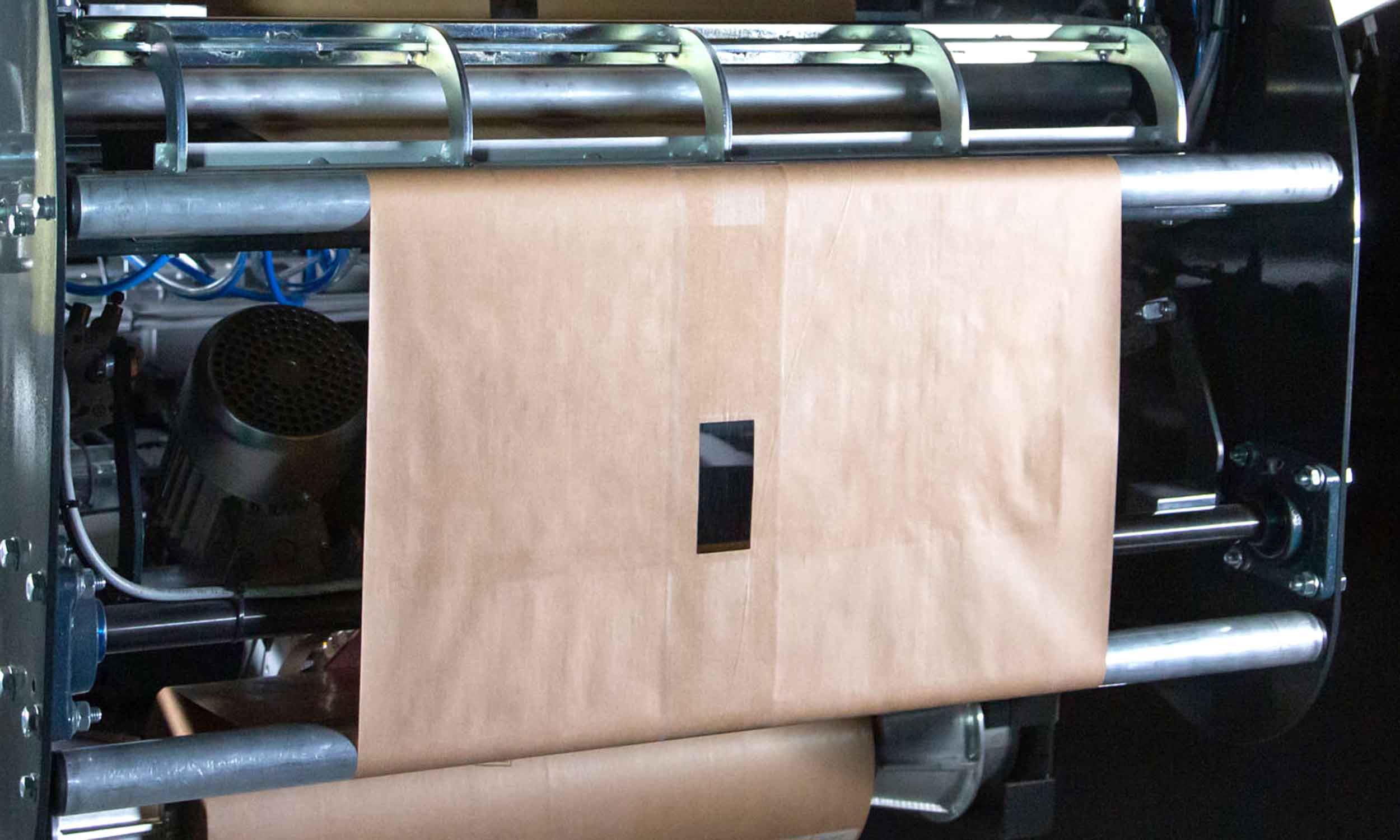 Compatible and compostable
Inkarta material can be used in all existing packaging machines, but with Cosmec srl's MVP-850 the performance is decidedly superior. Why?
The ductile, sustainable, resistant, thermo-weldable and printable material with certified water based inks, reduces the logistic space by more than half (20,000 m per 80 × 120 pallets compared to 8 / 10,000 m of other materials), with obvious savings of transport and logistics costs. This paper is flexible because it can be used with all thermal sealing bar packaging machines used in the fruit and vegetable sector. and … there is more.
In fact, from the Inkarta-Cosmec collaboration, the MVP-850 packaging machine was designed, the result of incessant research and numerous tests carried out on the main brands in the market.
Thanks to this resource, we have developed a new Vertical M / C capable of producing clean, airtight, perfect packaging and in addition to having an extremely good performance level with paper like no other, it boasts the following characteristics:
possibility of using indifferently paper, film, net and band in PP, PET, coupled or separated, laminated, polythenated
extremely accurate control of the unwinding film
use of sealing bars with paper and plastic
2 international patents
self-diagnosis
remote control
Siemens Brushless motors
Siemens PLC
high quality components
10 'Asem touch screen
All these features allow absolute control over belt, stops, pressures, welds, temperatures, geometry systems, with any material, thanks also to the innovative technology of sealing bars.
Studies carried out by NEXTPLORA unequivocally express the tendency to choose a confection with a clear focus on sustainability, attention to the environment and recyclability. MVP-850 is the answer for those who want to achieve perfection in their fast and clean sustainable packaging. It is flawless when it is made with NoW paper, with excellent results also using other materials available on the market: net-film coupled, separated, laminated, lacquered, PP, PET, HDPE, PLA, laminated, coupled, lacquered, polythene.
MVP-850 by Cosmec srl is certified 'Industry 4.0': this allows, one to take advantage of the loans provided on the tax credit in the event of a purchase.
In addition, we can supply the machines with an unprecedented free loan plan, completely disconnected from consumables.
Ecological packaging, perfect appearance, high production performance, reliable materials of the highest quality, costs in line with the market prices.
These are the main prerogatives linked to the inKarta-Cosmec binomial.